BBD 6220 CO2 Incubator Single 220L incubator 230V 50/60Hz TC sensor Each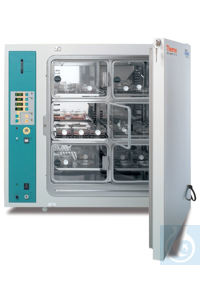 The picture may be different from the article and can include supply, which is not in the standard scope.
Order-No.: 51020241
19.414,00 €
for 1 piece plus VAT (16%) plus shipping costs
BBD 6220 CO2 Incubator
Protect cell culture samples from contamination and achieve reproducible results with the Thermo Scientific™ BBD 6220 CO2 incubator , which features active humidification control and an integral high-temperature sterilization cycle.
Direct Heat Chamber
The 220L (7.8 cu. ft.) high capacity chamber provides large culturing space for high throughput applications
Standard right hand door swing
Electropolished stainless-steel interior with coved corners is easy to clean
Active airflow gently distributes air throughout the chamber ensuring homogeneous conditions
Sturdy stainless steel shelves and supports can be removed without tools for easy cleaning or adjustment
TC (thermal conductivity) CO2 sensor for long, reliable operation
Dual temperature probes with over temperature protection
Active Humidity Control
Humidity level is easily adjustable with no water pan to manage
External water reservoir is designed to minimize chamber contamination and allows refilling without opening chamber
External water reservoir allows continuous thermal decontamination with cyclical heating to 80°C
At-a-glance water level indicator helps prevent sample desiccation                                                
180°C Sterilization Cycle
Independently validated on-demand 180°C overnight (12 hours) sterilization cycle
Simplifies cleaning and eliminates the need for separate autoclaving of parts
Designed to effectively eliminate bacteria, mold, yeast, and mycoplasmas from internal surfaces
Chamber Material: Polished stainless steel
CO2 Concentration Range: 0 to 20%
CO2 Sensor Technology: TC sensor
Oxygen Control: optional 3-90%
Humidity Delivery: External humidity reservoir
Relative Humidity: 60 to 95%, controllable
Temperature Range (Metric): Ambient +5° to 50°C
Data Outputs: RS232
Dimensions (D x W x H) Interior: 23 x 24 x 27 in. (58.5 x 66.7 x 66.9cm)
Capacity: 8.5 cu. ft., 220L
Electrical Requirements: 230V 50/60Hz
Dimensions (L x W x H) Exterior: 34 x 36 x 31 in. (88.5 x 92 x 77.5cm)
Description: Single 220L incubator
more
Article-No:

51020241

Validity:

31.12.2020

Last Update:

31.12.2019