Hei-TORQUE Core (UK-Plug) Compact overhead stirrer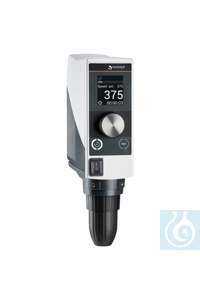 The picture may be different from the article and can include supply, which is not in the standard scope.
Order-No.: 5016041003
874,00 €
for 1 piece plus VAT (16%) plus shipping costs
Lightweight for big tasks


The compact design allows for integration in closed systems, such as fume hoods, reactors, or production systems. Suitable for low- to medium-viscosity media up to 25 l.

The large diameter of the chuck (10 mm) allows you to use even large impellers and VISCO JET® tools. This facilitates a wide variety of applications, such as homogenization, dispersing, the dissolving of agglomerates, and more.


Torque up to 40 Ncm


Speed range up to 2,000 rpm


Viscosity up to 10,000 mPas


Control knob for rotation speed, pushing starts or stops the function


Timer


"Max" button for short-term operation at maximum speed


more
(-) Technical data:
Product type description:
Hei-TORQUE Core
Minimum rotation speed:
20 min-1
Maximum rotation speed:
2000 min-1
Article-No:

501-60410-03

Validity:

31.12.2020

Last Update:

31.12.2019