Overhead Stirrer R 80D-PC 230V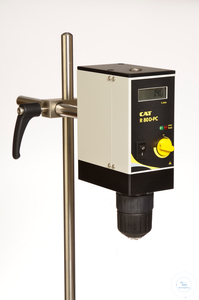 The picture may be different from the article and can include supply, which is not in the standard scope.
Order-No.: 603110000
987,80 €
for 1 piece plus VAT (16%) plus shipping costs
Long lasting stirrer with electronic feed-back speed control and digital speed display.
This overhead stirrer is especially useful for applications where for a short time dynamic viscosity occurs but a still handy tool is requested.
The stirrer comes with RS232 interface for control via a PC.
The speed is steplessly adjustable from 20 to 700 rpm.
The maximum torque is 80 Ncm.
Speed is shown on the digital display.  
Part No.
60311-00   (230V)
63011-01   (115 V)
Stirring Volume (H2O)
120l
Motor
Permanently generated direct –current motor
Speed Range
20 – 700 1/min
Nominal Rating
120 Watt input
Short Term Overload 30%
Power output
100 W
Torque over entire speed range
80 Ncm
Capacity of Chuck
0.5 – 10.5 mm
Viscosity of Medium
Average values (water to wallpaper paste)
Mains Voltage
200 -250 V, 50/60 Hz or 115 V +/- 10%, 50/60 Hz
Permissible period of operation
100%,  Continuous operation may require service intervals
RS232
yes
Admissible temp. of surrounding
+ 5°C to 40°C
Diameter of support rod
13 mm
Length of support rod
196 mm
Weight
2,5 kg
Dimensions
65 x 200 (incl. 55 mm Chuck) x 120 mm (W x H x D)
Accessories and Stirring Paddles (optional)                        
Guard for agitator shaft    Part no.: 20618-60
Pedestal Stand incl. rod   Part no.: 60491-00
Cross over clamp  Part no.: 60492-00
Cross over clamp made of steel Part no.: 60492-50
Blade stirring paddle   Part no.: 8B009405
Centrifugal stirring paddle  Part no.: 8B009211
Propeller stirring paddle Part no.: 8B009105
9 Pin SUB-D cable, 1.8 m long Part no.: 30275-51                        
more
(-) Technical data:
Minimum clamp capacity:
1 mm
Maximum clamp capacity:
10,5 mm
Minimum rotation speed:
20 upm
Maximum rotation speed:
700 upm
Power input:
120 W
Width:
65 mm
Depth:
120 mm
Height:
200 mm
Rated load torque:
0,8 N m
Article-No:

60311-0000

Validity:

30.11.2020

Last Update:

31.12.2019