Universal graduated beaker, PP, 1000 ml, w/ spouts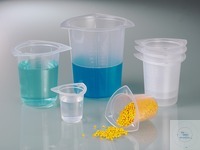 The picture may be different from the article and can include supply, which is not in the standard scope.
Order-No.: 71091000
1,76 €
for 1 piece plus VAT (16%) plus shipping costs
volume scales
from
per
Price
Comment
1
1 piece

1,76 €

100
1 piece

1,60 €
Universal graduated beakers with indestructible graduation. The three specially formed spouts enable easy pouring of liquids. Due to great pricing, they can also be used as disposable graduated beakers.

PP, transparent, autoclavable

Space-saving stacking in one another

Attention! Make sure to pay attention to the "List of Chemical Resistance"!
(-) Technical data:
Nominal volume:
1 l
Material:
PP
Color:
Transparent
Asepsis:
No