PTFE hose, Ø 6x8 mm, pressure max. 40 bar, 50 m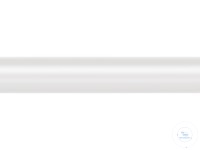 The picture may be different from the article and can include supply, which is not in the standard scope.
Order-No.: 88790608
308,05 €
for 50 Meter plus VAT (16%) plus shipping costs
volume scales
from
per
Price
Comment
50
50 Meter

308,05 €

200
50 Meter

293,25 €
Excellent properties: Extremely high chemical resistance against nearly all chemicals, smallest frictional coefficient, excellent anti-adhesive qualities/residue emptying. PTFE hoses do not emit odours, do not burn or smoke and are resistant to ageing and UV light. Not resistant to fluorine compounds or strong reducing agents.

Transparent

Hardness Shore D 55

Temperature -200 °C to +260 °C

Autoclavable, ethylene oxide

Flavour and odour neutral

The pressure figures are maximum values (bursting pressure) under optimum ambient conditions. The user is responsible for determining any suitability!
more
(-) Technical data:
Inner diameter:
6 mm
Outer diameter:
8 mm
Wall thickness:
1 mm
Material:
PTFE
Asepsis:
No