neodisher LaboClean FT - 12,00 KG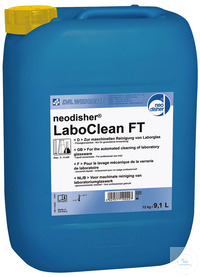 The picture may be different from the article and can include supply, which is not in the standard scope.
dangerous substance
Order-No.: 102761030
87,88 €
for 1 piece plus VAT (19%) plus shipping costs
Alkaline detergent – liquid concentrate –
With oxidising effect, free of surfactants
Especially suitable for the residue-free cleaning of glassware for cell and tissue cultures, pharmacy glass bottles and
infusion flasks as well as glassware for microbiology and nuclear medicine. Removes residues of culture media, residues
of cell and tissue cultures, blood, proteins, radioactive contamination as well as other organic residues.
more
(-) Technical data:
Reg. Trademark:
neodisher®
(-) Security-related data:
GHS Number:
GHS05
GHS Number:
GHS07
Signal word:
Danger
Hazard statements:
H290,H314,H400,H411
Precautionary statements:
P273,P280,P303+P361+P353,P305+P351+P338,P310
UN number:
1719