neodisher N - 12,00 KG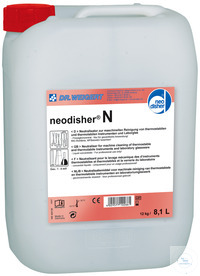 The picture may be different from the article and can include supply, which is not in the standard scope.
dangerous substance
Order-No.: 353820130
84,55 €
for 12 Kilogram plus VAT (19%) plus shipping costs
Acidic neutralising agent and detergent – liquid concentrate –
Free of surfactants
For neutralising any carried over alkaline residues or for acidic pre-cleaning resp. cleaning of laboratory
glassware. Lime and other acid-soluble residues are removed. Easy to rinse off. Based on phosphoric acid.
(-) Technical data:
Reg. Trademark:
neodisher®
(-) Security-related data:
GHS Number:
GHS05
Signal word:
Danger
Hazard statements:
H290,H314
Precautionary statements:
P280,P303+P361+P353,P305+P351+P338,P310
UN number:
1805